How to Choose Wall Decals
If you are planning to do a makeover for your home or you want to give life to a boring wall, you can get wall decals. These are stickers that come in different designs and graphics. You can merely stick this to your wall and watch it as it does wonders in enhancing the look of your interior. Many homes these days make use of wall stickers especially that it is easy to use.
    Aside from adding beauty to your interior, wall decals can also be useful in covering holes or some patches on the wall. It can hide some areas in the wall while making it beautiful at the same time. Now, if you are planning to buy some wall decals, take a look at the tips we have prepared for you.
1.Decide where to place it
    The first thing that you need to think of is where you will be placing your wall decal or wall sticker. Knowing that will guide you on what type of wall decal is best for the space. There are so many designs for wall decals but not all of them would look good and would appear right for a certain area.
2.Know the size of the space
    Look at the size of your space. The price of a wall decal also varies with the size. If you have a wide empty wall, you can get larger wall decals so it can occupy the entire area. Or if you decide to just stick on a certain part of it, you can do it too. Just be sure that your wall sticker will not look too small in the space. For a smaller wall space, smaller wall decals will do. If that small space is vertical, then you can pick a tall and slim wall decal. If it's horizontal, get along and slim wall decal.
3.Think of the mood you want to set
    Every room in your home would have a different mood. Your wall stickers have a great impact on the mood of your space. If you want a lively and fun area, get colorful and fun stickers. If you want to create a feeling with nature's touch, you can get cherry blossoms or other decals with elements from nature.
4.Choose colors
    As always, color matters. You have to choose a wall decal that has colors that would suit your space. The color of your wall decal can also give a huge impact on the space. There are so many colors that you can choose from. You can even ask a designer to customize one for you that would look good in your interior. Choose your colors accordingly.
5.Make sure it is safe
    Even a wall sticker might cause harm to the homeowners especially to kids. It is important that you check if it is made of safe materials. To do that, check on how the stickers where made and if it has the labels VOC-free, Phthalate-free, lead-free or non-toxic on it. You have to look into this especially if you will place in it a nursery room or kid's bedroom.
    decalmile wall stickers are made of high-quality Die-Cut Vinyl. Its characteristic long does not fade, natural, beautiful, avirulent insipidity, easy to peel and stick, removable, and waterproof.
6. Use interior style as a basis
    If you decide to have a modern interior, see to it that your stickers will also look modern. Do not just pick any wall sticker because it has to go well with your interior design. You can also consult sellers as to what would look right in your type of interior. Or, you can request a sample image as to how that decal will possibly look once it's up in your space.
7. Bedroom wall decals
    If you have kids in the house and you want to place wall stickers for their bedrooms, let them choose. Do not get decals that they do not like because they are the ones occupying the room. Avoid placing decals that have lots of details and look too realistic. Allow them to place decals that would help widen their imagination. It has to be colorful and lively too. Your kid's favorite character can be a good wall decal. An adult's bedroom can have decals of sceneries and other designs that interest the owner of the bedroom. Black and white can look good and is actually the current trend. But you can also get those with a splash of color. Wall decals of pale colors are also best for bedrooms
8. Decals for living room
    For a living room, large stickers would work better especially if there is a big empty wall. As we have mentioned, make sure that it looks good in the interior style. In choosing colors, use those that are already present in the living room so that the colors will be complementing and coordinating with each other. Large wall stickers in the living room could look good as a backdrop for furniture and other items.
9. Decals for kitchen, dining area, and bathroom
    When choosing stickers for the dining area and kitchen, you have to use images of utensils, fruits, and others that would be associated with food. For the bathroom, choose stickers of marine animals, waterfalls, rivers, and anything that can be linked to water.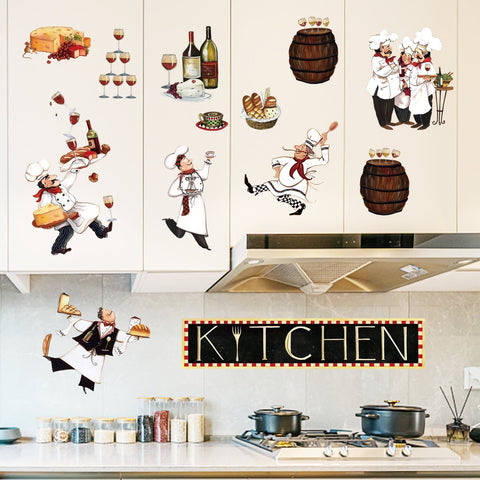 10. Choose sticker type
    A sticker could be self-adhesive transfer stickers, non-self-adhesive transfer stickers, and peel-and-stick, removable, reusable stickers. There are a wide variety of wall stickers in Hausweet for you to choose from. Choose which type would best suit your needs. Also, do not hesitate to ask our customer service about the details of these sticker types before you buy one.
    Wall stickers are indeed lovely! It can enhance an interior without the need of spending too much. Wall decals are not expensive but the result is beautiful. For sure, you will agree with us that wall decals can certainly add a touch of life to your walls.