Why Should You Buy A Tea Set Instead of Just Cups?
Owning the best tea sets and dinner sets along with other exquisite tableware is every woman's home bucket list. A chance to show off our best cutlery when people are around is a chance which no one wants to miss. That is why the range of delicate tableware products is equivalent to its worth where thousands are spent to make sure that the best of the cutlery is owned by the households.  This article is going to focus on one main tableware domain without which our chinaware is incomplete- the tea sets and why should you buy a tea set instead of just cups?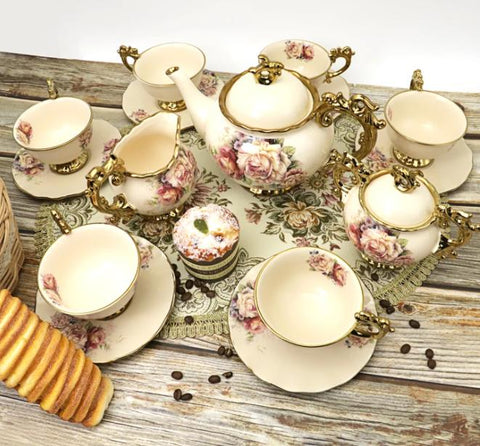 About tea and tea sets- A peek:
 Tea as a beverage is a well-loved drink across the globe with a well-picked plethora of flavors embraced universally. Be it the antioxidant green tea or the energy giver oolong tea, or the forever favorite herbal masala chai, tea has created its favorite corner and a niche market in the hearts of people globally. And to serve the tea, various traditional, as well as contemporary teacups and tea sets, have been designed, which is to the best of the design and the highest grade of quality.
Tea sets- a definition:
Before we delve deeper into the contest of tea sets vs. teacups, let's take a look at the definition of tea set and how different it is from just cups. A tea set is a set of chinaware consisting of a teapot, teacups, stirrers, saucers, a milk jug, or a creamer jug along with a sugar pitcher. Usually, all tea sets came in a matching set of 5 or 6 cups and meant to serve a small group, but with the evolving time, tea sets now have an extended capacity of serving up to 12 members as well.
Tea sets vs. teacups:
The major difference between a tea set and just a cup is that cups are not bound by any sets, nor are they a part of any design. They are sold individually, serving either tea or coffee sans the pot, saucers, stirrers, or any of the items that accompany a tea set. But tea sets are beverage-specific and are used to serve only tea. The most widely used is ceramic tea set.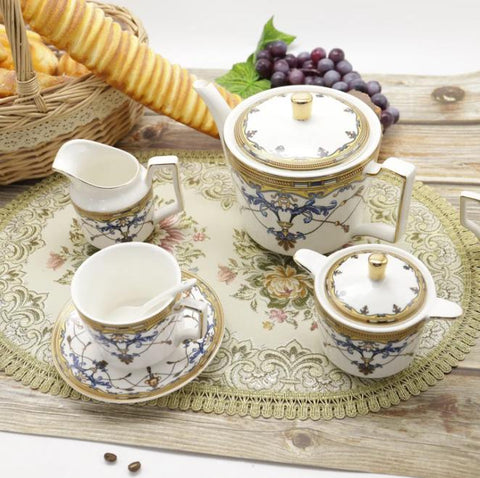 Just like tea sets, there are various kinds of cups too, which can be used to either serve tea or coffee. Some of the common teacups which are used are predominantly in almost every household are-

Bone-china teacups
Ceramic teacups
Porcelain teacups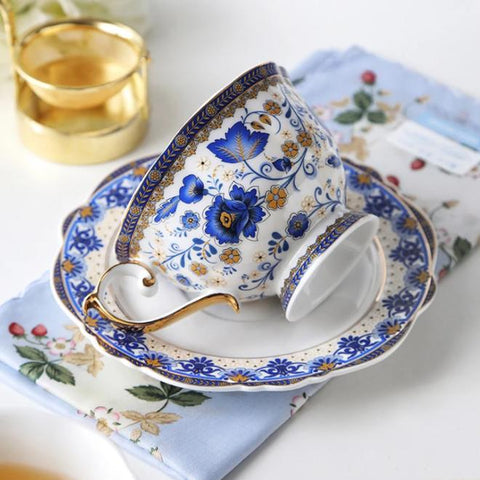 What does a tea set include?
Tea sets are incomplete without the following items in them-
•A serving tray: This is a tray that helps in carrying and holding the entire set together. It could either be a simple tray or a serving tray with a finger sliding gap on either side.
•A tea kettle: This kettle should be able to hold at least five full cups of tea or six quarter cups of tea without any spillage.
•Teacups and saucers: A tea set contains 5 or 6 teacups along with an equivalent number of saucers where the cups can be placed after sipping the tea.
•Stirrers or spoons: Equivalent number of stirrers and spoons are also placed next to the cup, and once the sugar is stirred, it is kept on the saucer.
•Creamer or milk jugs: This pitcher contains milk or creamer for serving and is served separately for people who want milk in their teas.
•Sugar pitcher: This essential accessory serves both kinds of people, those who want sugar in their tea and those who don't. Sugar is served in some cases in the form of cubes for convenience.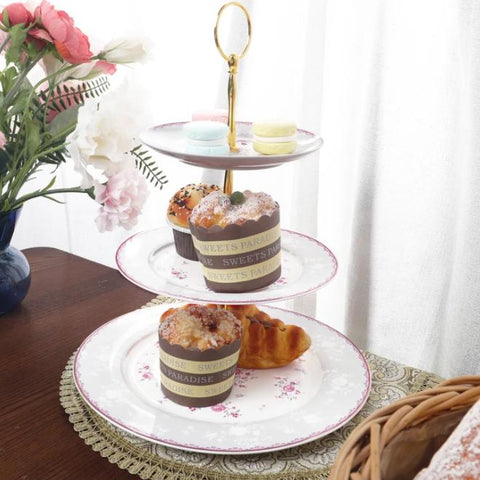 How to choose the perfect tea set:

Choosing a perfect tea set requires a lot of sweat. Few things while choosing are very important like-

•The type of tea you are going to drink so that if you are a 'red tea' kind of person, you can brew the tea in a transparent cup and enjoy the flavor and color at the same time.
•The kind of tea you like so that if you want an infuser, you can get along with it.
•The aesthetic value addition by a tea set which determines if the tea set will fit in the setting or not
•The material of the tea set ranging from glass to ceramic and others.

Advantages of buying tea sets instead of teacups:
In this section, we will try to answer why having a tea set is better than just having cups.
•Tea sets come complete with accessories like saucers and stirrers, whereas cups don't come with any of these. This may sometimes lead to inconvenience for the tea-drinkers as not finding a place to put the cup while standing can be annoying.
•Tea sets not only serve the purpose of drinking, but it also enhances the entire tea-drinking experience. Such experience won't come to you if you enjoy drinking tea in a cup.
•A tea set with an infuser provides you with the motivation to experiment with different kinds of tea like leaves tea or just the powder infused tea blend. No such things are available in just cups leaving you unaware of the whole experience.
•A tea set with creamer or milk jug will give you a taste of both the worlds, i.e., with milk and without milk. This experience is not possible with just cups
•A tea set gives you a jest of the tea etiquettes that might never come to you if you purchase just cups.
•With a wide range of teacups and tea sets available, adding an exquisite tea set to your tableware will increase the aesthetic value of the whole setting.
•In tea sets, everything, including stirrers and sugar cubes, is found in one place. But in case of cups separate tableware needs to be used to store different items required during the tea ritual.
•May tea sets like ceramics have wholesome health properties, and drinking tea from them is beneficial for health. Even though in a ceramic cup, you will get the same benefits, the infusion of tea leaves in a ceramic pot is also essential and which is not possible in a cup.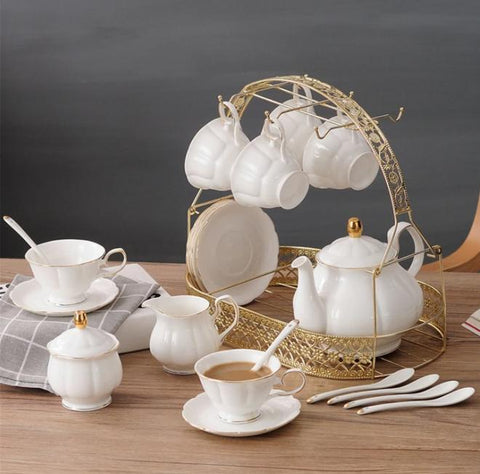 Now that you know everything about tea sets, if you are looking for tea sets to buy, look no further even though there must be many places where you prefer to buy your tableware. fanquare is one place that you should definitely visit to see their finest and rare collections.  fanquare showcases some great items and collectables. For more information, do visit to choose your tea sets.